Sunrun has saved Hawaiians over $21,329,238* on their electric bills to date.
Find out how easy it is to go solar with Sunrun and save on your electric bill.
Aloha, Solar Power! Fresh, tropical breezes. Warm, tranquil waters. Rainbows that never end. Everything's better in Hawaii—except the high cost of living. While you can't do much about the cost of groceries or dining out, you can take control of high energy prices! Did you know that Hawaii ranks the 7th state in the country in installed solar… enough to power 110,000 homes1. Hawaii homeowners are already taking advantage of incentives and financing—and their solar power systems are exempt from property taxes for the next 25 years.
As the largest dedicated home solar company in the country, we've developed a personalized and simple process that allows you to enjoy the benefits of solar energy quickly and easily. With just a simple phone call, you'll be well on your way to getting a customized solar design for your home. This design is implemented by one of our extensive network of local partners. By working with them, you can enjoy quick and professional solar installations from certified folks who live near you. They're verified by Sunrun, so you can trust that you're in good hands.
And, with our 24/7 monitoring of your solar system, you'll have a lot less to worry about in the long-run. That's because whether it's an equipment failure or a simple checkup, Sunrun will be on it faster than you can say "solar savings"! The best part is, all of our services are provided under flexible financing, including solar leases and PPA agreements, allowing you to benefit from solar on your own terms and within your budget.
So what're you waiting for? Check out our service areas and see if we can help you make the switch in Hawaii today. Get a free solar quote today.
Hawaii residents can still go solar and save with Sunrun BrightBox™ solar & energy storage
It's time to say "aloha 'oe" to fossil fuels and "aloha" to clean affordable energy. Hawaii is a powerhouse when it comes to solar, generating enough energy to power 110,000 homes. And it's no surprise--as the price of imported fuels continues to rise, there's never been a better time to go solar. That's why more and more Hawaiians are making the switch to home solar power through Sunrun BrightBox™, Sunrun's innovative solar and energy storage system. With most utilities in Hawaii hitting their net metering caps, going solar with energy storage is the only way to still go solar. Don't worry, with Sunrun BrightBox you won't lose out on a single ray of savings from the sun.
Sunrun BrightBox™ is the smart solution to going solar. BrightBox combines solar panel energy generation, energy storage and energy management into a customized solution that provides homeowners clean and affordable energy day and night. BrightBox technology makes sure you're generating, storing and using electricity as efficiently as possible so you don't have to think about it. You use power like you normally would. The only difference you'll see is more moola to spend on the wonderful things Hawaii has to offer (sand, surf, and of course, sun).
Sunrun will take care of your BrightBox system's installation, maintenance, and repairs for 20 years--all you have to do is soak up the savings. Ready to start taking advantage of Hawaii's most brilliant natural resource? See how much you could save with BrightBox today.
Day-and-Night Solar Savings with Sunrun BrightBox
Why Sunrun BrightBox™?
Save money now
Avoid expensive electricity rates by using low cost energy from BrightBox. Electricity rates start at 19 c/kWH in Oahu and 22 c/kWH in Maui, Big Island, Kauai, Molokai and Lanai.
24/7 access to solar
During the daytime, your rooftop solar panels will power your home and store excess energy in your BrightBox. At night, your home will draw energy from BrightBox.
Peace of mind
With BrightBox, we take care of everything from permitting to installation, while you sit back and watch the savings roll in.
Skip the line
Sunrun BrightBox customers will be the first to save with solar thanks to faster interconnection timelines with local utilities.
Multiple payment options
BrightBox makes solar and energy storage affordable for everyone. Lease, prepaid and cash options are available.
Now that you know even more about BrightBox, we hope you'll join us in creating a planet run by the sun. See if you qualify today.
Our customers love us
HI
"I wanted get a photovoltaic system, but didn't know how I was going to do it. Sunrun made a lot of sense for me. Once I learned about Sunrun, the decision was...

Jacob D.

Ewa Beach, HI

"All you have to do is look at the expression on my face when I open my electric bill every month. It's like having your birthday when you're a kid. What make...

Ed G.

Kealakekua, HI
Some of our installations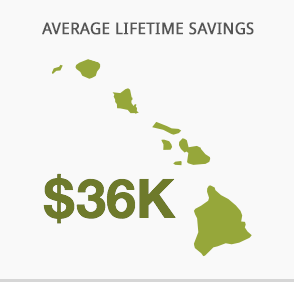 SOLAR SAVINGS ARE BIG
See if you qualify
Go solar in 3 easy steps