Surf's Up with Solar Incentives in Hawaii
Thanks to its sun and surf, Hawaii is not only a vacation destination but also a home solar system's dream. With its year-round sunshine, going solar is the best way to offset the state's skyrocketing electricity rates, which are currently the highest in the country.1 Hawaii has a few incentives in place to help carry the cost of going solar. Keep reading for Hawaii's best solar incentives and how Sunrun is here to help you take advantage of them all.  
Hawaii Solar Incentives, Rebates, & Tax Credits
| Solar Savings Types | Value of Savings |
| --- | --- |
| Property Tax Exemptions | Property Tax Exemption on Added Home Value from Solar System 2 |
| Federal Solar Tax Credit (ITC) | 30% of the total system cost 3 |
**Customer's ability to monetize rebates, incentives and tax credits depends on several factors, including, without limitation, continued state subsidization of these policies, the applicable Sunrun product type, and whether a customer purchases or leases a solar system from Sunrun.
Property Tax Incentive
If you purchase a home solar system, you'll also be exempt from paying additional property taxes. So when the value of your property gets assessed, the added value from going solar isn't included. What that means for you? More savings on your taxes.2
Federal Investment Tax Credit
On top of Hawaii's solar incentives, you'd also be eligible for the Federal Investment Tax Credit, otherwise known as the ITC, if you buy your own solar system outright. The tax credit amounts to 30% of the cost of purchasing your solar system, but only after deducting the value of your state rebates. However, ITC credits will begin stepping down from 30% at the end of 2019. The tax credit for systems in service after 12/31/19 will drop to 26%. After 12/31/20, it'll drop even further to 22%.3 That's why the time to go solar is now. But not to worry—we can help you maximize on all the solar savings available to you.
Own Your Solar System and Your Savings in HI
Our BrightBuy™ and BrightAdvantage™ plans give you the chance to buy your own solar system outright or through a hassle-free loan. We'll create a customized agreement based on your individual needs. You'll also get a free, custom solar design that meets the unique needs of your home and lifestyle.Whichever one you choose, we'll help you take advantage of the Hawaii solar incentives that might be available to you. We'll even handle the paperwork. All you have to do is sit back and soak up the savings.
See why other customers have chosen to go solar with Sunrun. Want to see how much you could save? Get your free quote today.
Energy Resources
Solar resources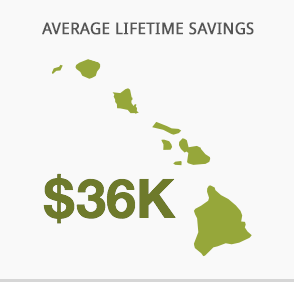 SOLAR SAVINGS ARE BIG
See if you qualify
Go solar in 3 easy steps