Oahu, HI is Sunny, Warm and Full of Solar Savings.
Hawaii has the highest electricity rates in the U.S.1 As a homeowner in sunny Oahu, how much longer will you continue paying for electricity prices more than twice the national average?2 Don't you believe it's time to put Hawaii's powerful sunshine to better use? 
Bring solar and battery storage into your life today. Rest assured, Sunrun is here to guide you every step of the way to help you regain control and peace of mind.
Our Solar Plans Match Just About Any Budget
At Sunrun, we offer a variety of customizable solar plans to lease, finance, or purchase your new solar panels and energy storage products 100% worry-free. And since your state is leading the way in becoming 100% carbon-free by 2045,3 once you begin your solar savings journey, you'll play a part in this initiative as well.
Since 2007, hundreds of thousands of Americans have chosen Sunrun to electrify their homes with clean, affordable, reliable energy. 
New System Leases Start at Little to $0 Down
BrightSave™ Monthly is a Sunrun customer favorite. When you lease your system, you'll get the same dependable power as full ownership, but with the added benefits of professional maintenance and monitoring and predictable rates.
Want to lock in two decades of energy at today's prices and never have to see a solar utility bill again? Choose BrightSave™ Prepaid. This plan offers the worry-free benefits of a lease and no monthly payments. It's maximum savings and peace of mind wrapped in solar simplicity.
Save Day-and-Night with Sunrun Brightbox™ Battery Storage System
Brightbox is our holistic solar service with a battery unit, charged by your roof's panels, capable of powering your home on solar 24/7. With Brightbox, you can store the excess energy your system produces and go grid-free at night or in the event of an outage.
Besides, with Hawaii's Time-of-Use rates, "Solar battery storage Oahu" means you'll avoid your utility's on-peak costs.5 Yes, this is the future of stored energy, and we welcome you with open arms.
Day-and-Night Solar Savings with Sunrun BrightBox
Why Sunrun BrightBox™?
Save Money Now

Avoid expensive electricity rates by using low cost energy from BrightBox. Electricity rates start at 19 c/kWH in Oahu.

24/7 Access to Solar

During the daytime, your rooftop solar panels will power your home and store excess energy in your BrightBox. At night, your home will draw energy from BrightBox.

Peace of Mind

With BrightBox, we take care of everything from permitting to installation, while you sit back and watch the savings roll in.

Skip The Line

Sunrun BrightBox customers will be the first to save with solar thanks to faster interconnection timelines with HECO.

Multiple Payment Options

BrightBox makes solar and energy storage affordable for everyone. Lease, prepaid and cash options are available.
Purchase Your Oahu Solar Panels and Get Even More Benefits
If you want to own the system and savings along with home equity building, BrightBuy™ has your back. Simply make a one-time, upfront payment, and you'll be set to enjoy significant savings through the next 30 years or more. Thinking about owning your system for $0 down? BrightAdvantage™ paves the way for you with low, fixed monthly payments, competitive rates, and no upfront cost.
Best of all, both Brightbuy and BrightAdvantage come with top-notch solar ownership benefits, such as a 30% federal tax credit and a state tax credit of up to 35% of your system's cost. This means that a standard 5-kW system will net you around $11,000 back from these tax credits.6 
Don't Let the Sun Set on Your Chance to Save
As the nation's largest residential solar, storage and energy services company, it's worth having a conversation with us about how to go solar in Oahu. At Sunrun personalized quotes are always free.
Energy Resources
Solar resources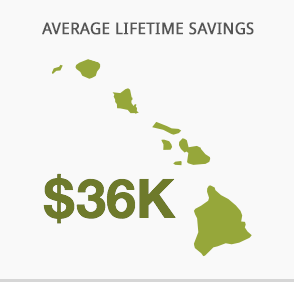 SOLAR SAVINGS ARE BIG
See if you qualify for solar