Maryland Solar Incentives
Take a Look at the Benefits of Going Solar in Maryland
-43%
Maryland's solar price drop over the last five years.1
10%
Solar power in Maryland is more cost-effective vs. other states.2
50%
State electricity generation that will come from renewable energy sources by 2030.3
Residents in Maryland pay over 20% more for their home electric bills compared to the national average,4 but increasing control of their energy usage and cost isn't the only reason Marylanders choose to go solar. The state also offers excellent solar incentives that could help you make the switch for less.
As the leading residential solar and energy storage company in the U.S.,5 Sunrun works so you can gain energy freedom and protect your home from outages while ensuring you get the most solar benefits possible.
Here's the List of Tax Incentives, Tax Credits, and Rebates Maryland Offers*
Incentive

Value

Inflation Reduction Act (IRA)**

Qualified homeowners with home solar could be eligible for a tax credit of up to 30% against the cost of the system.

Solar Renewable Energy Credits (SRECs)

Compensation per kilowatt-hour (kWh) produced by the system. (Based on market value.)7,8

Solar Energy System Property Tax Exemption

Property tax exemption that excludes the added value of an installed solar panel system from the home's value for tax purposes.9

Solar Panel System Sales Tax Exemption

6% home solar system state sales tax exemption.9,10

Residential Clean Energy Rebate Program (R-CERP)

Marylanders who purchase and install a new residential solar power system may qualify for a $1,000 rebate.11

Find out if You Qualify for Maryland Solar Incentives
Learn the Details of Maryland Solar Incentives
Choose a Cleaner and More Affordable Energy Future
Aside from the great solar incentive programs mentioned above, our home solar and battery storage plans in Maryland start at $0 down. What's more, Baltimore Gas and Electric Company (BGE), Delmarva Power, Potomac Electric Power Company (PEPCO), and other Maryland utility companies offer net energy metering (NEM) programs that could let you earn credits on your bill for the excess electricity you add to the grid.14,15,16 Net metering in Maryland may help you save money on your future electric bills.
Teaming up with a Maryland solar company like Sunrun can be incredibly cost-effective. Plus, we're one of the best solar installers in Maryland. Ready to take the next step? Use our Product Selector or request a free quote to get one-on-one service from our expert Solar Advisors.
Go solar today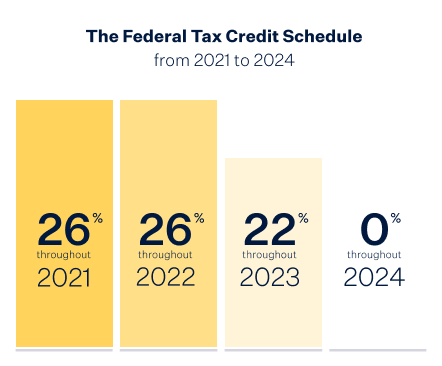 Learn about the federal tax credit
Find your ideal system and battery
Get your cost to make the switch
DISCLAIMERS:
*Customer's ability to monetize rebates, incentives, and tax credits depends on several factors, including, without limitation, continued state subsidization of these policies, the applicable Sunrun product type, and whether a customer purchases or leases a home solar system from Sunrun.
**We recommend contacting a tax professional to most accurately determine the impact tax credits may have on your federal taxes.