South Carolina Solar Incentives
Make the Switch to Solar with Sunrun and Enjoy All the Benefits
-36%
South Carolina's solar price drop over the last five years.1
#3
South Carolinians are the third-biggest spenders on electricity bills in the U.S.2
+23%
South Carolina residential electric bills vs. the national average.2
Spending less money on electricity bills isn't the only reason why South Carolinians choose to go solar. When you team up with a South Carolina solar company like Sunrun you can also protect your home from outages and reduce your carbon footprint.3,4 On top of that, there are several state financial incentives to help you go solar for less.
As the leading residential solar and energy storage company in the U.S.,5 Sunrun works so you can create and store your own clean energy at home while getting the most out of South Carolina's federal tax credit and solar power incentives.
South Carolina Tax Incentives, Credits, and Solar Rebate Programs*
Incentive

Value

Federal Solar Investment Tax Credit (ITC)**

The 26% federal tax credit is available for purchased home solar systems installed by December 31, 2022.6

South Carolina Solar Tax Credit

The 25% state solar tax credit is available for purchased home solar systems in South Carolina. (Max. $3,500 state tax reduction)7

Santee Cooper Solar Rebate Program

Eligible Santee Cooper customers can get a cash incentive for every kilowatt (kW) of solar power installed. (Max. rebate level: $1,200)8

Find out if You Qualify for South Carolina Solar Incentives
Learn the Details of South Carolina Solar Incentives
Buy and install new South Carolina solar panels in 2021, with or without battery storage, and qualify for the 26% federal solar tax credit. The residential ITC drops to 22% in 2023 and ends in 2024.6
Average-sized 5kW system cost in South Carolina: $13,735 Approximate solar panel system cost in South Carolina after the 26% ITC in 2021: $10,1649
Eligible residents can get a 25% tax credit from the final cost of a new renewable energy system in South Carolina. The state tax credit can only take $3,500 or 50% of your tax liability per year for up to 10 years. (Max. solar installation cost: $35,000.)7
Eligible Santee Cooper residential customers who are homeowners can receive up to $1,200 for every kW of solar power installed. (Max. purchased system size: 6kW.)8
Funding for Santee Cooper's solar rebates is limited, and applications are reviewed on a first-come, first-served basis until the available budget is used.8
South Carolina Is a Great Place for Solar Energy
With an average of 216 sunny days per year,10 excellent incentive programs, and new laws that protect net energy metering (NEM), there hasn't been a better time to install a solar array in South Carolina.11 What's more, Dominion Energy (formerly SCE&G), Duke Energy, and Santee Cooper offer NEM programs that could let you earn credits on your bill for the excess solar energy you create and send to the grid.12 Net metering in South Carolina can help increase your control over utility bills.
Our solar lease and purchase plans, with or without a home battery in South Carolina, start at $0 down. Ready to go solar with one of the best solar installers in South Carolina? Use our Product Selector or request a free quote to get one-on-one service from our expert Solar Advisors.
Go solar today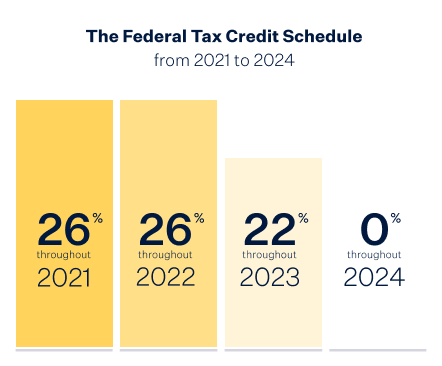 Learn about the federal tax credit
Find your ideal system and battery
Get your energy usage and solar cost
SOURCES:
*Customer's ability to monetize rebates, incentives, and tax credits depends on several factors, including, without limitation, continued state subsidization of these policies, the applicable Sunrun product type, and whether a customer purchases or leases a home solar system from Sunrun.
**We recommend contacting a tax professional to most accurately determine the impact of the solar Investment Tax Credit (ITC) on your federal taxes.
ORS Certificate No. SL-0001 solar.sc.gov 
For complaints contact (803) 737-5230 or energycs@ors.sc.gov