South Carolina Solar Incentives
South Carolina Has the Best Solar Tax Incentives in the Southeast
South Carolina shows us what southern hospitality looks like when it comes to solar policy, and it's just getting started. With one of the most forward-looking solar trends in the region, the future of South Carolina is looking extra bright. There's plenty of tax credits and rebates to go around, but Sunrun can help you funnel them into solar savings from day one.
South Carolina Solar Incentives, Rebates, & Tax Credits
| Solar Savings Types | Value of Savings |
| --- | --- |
| Federal Solar Tax Credit  | The 26% federal solar tax credit is available for home solar systems installed by December 31, 2020 |
| Solar Panel Tax Credits | 25% of total system cost |
**Customer's ability to monetize rebates, incentives and tax credits depends on several factors, including, without limitation, continued state subsidization of these policies, the applicable Sunrun product type, and whether a customer purchases or leases a solar system from Sunrun.
Find out if you qualify for South Carolina solar incentives
Own Your System and Your Savings
Our BrightBuy™ and BrightAdvantage™ plans let you buy and own your own solar system with a customized agreement based on your individual needs. You'll also get a free, custom solar design that meets the unique needs of your home and lifestyle. Whichever one you choose, we'll help you take direct advantage of the South Carolina solar incentives that might be available to you. We'll even handle the paperwork. All you have to do is sit back and soak up the savings.
Sounds pretty sweet right? But don't take it from us—take it from the satisfied customers who have already gone solar with Sunrun. Ready to start saving? Get a free quote today.
Solar tax incentives and rebates in South Carolina
South Carolina has one of the most generous solar tax credits in the region. You can enjoy a 25% state tax credit if you buy your own solar system.1 If you don't pay enough in taxes to qualify for the full 25% credit, it'll roll over into the next year. But there are other ways to save that don't involve taxes when you go solar in South Carolina.
In addition to South Carolina's state solar tax credits, you'd also be eligible for the  federal solar tax credit, if you buy your own solar system outright. The federal solar tax credit gives you a dollar-for-dollar reduction against your federal income tax. The 26% tax credit applies as long as the solar energy system is installed by December 31, 2020. Starting in 2021, the value of the tax credit will step down to 22%. After 2021, the tax credit for residential solar ends.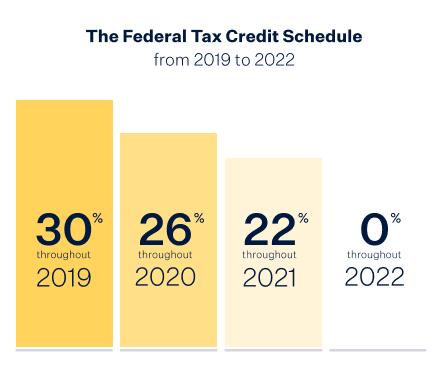 Installing solar is an investment for today, next year and the long term. If you're considering buying a home solar system, act today for a big tax incentive.