New Jersey solar needs partners like you
Going solar in New Jersey is easy and affordable. A lot of that has to do with Sunrun! Thanks to our creation of solar-as-a-service, we've made it easier than ever to enjoy the power of solar energy in The Garden State. Nevertheless, we'll be the first to admit that we're not the only ones who have helped solar gain a stronger foothold here. As a homeowner in New Jersey, you've got the power to support solar's growth. Below you'll find a few ways to get you started.
Hit the books
It's always important to make sure you get the facts right. And when it comes to advocating for New Jersey solar energy, it is no different. That's why a great place to start is EnergyFactCheck.org. As a reputable source for solar news and information used by many in the industry, it's a great way to get up to snuff on your knowledge of New Jersey and its solar industry. We also recommend checking out our Go Solar Center, The Solar Energy Industries Association, New Jersey's Clean Energy Program and The Solar Action Alliance.
What's going on in your backyard?
New Jersey is your home, so when it comes to activism and advocacy, it's probably easier than you think to get involved. From getting in touch with your local politicians to attending homeowner association meetings, townhalls and more, you've got plenty of access to influential people. If you're looking for specific policies to support or study, Vote Solar has great introductory resources on pro-solar legislation. In addition, consider joining the solar advocacy movement with The Alliance for Solar Choice.
Tell everyone you know
In today's world, social media is truly ubiquitous. With this widespread access to family, friends, celebrities and politicians, it's a powerful tool for change. Whether it's sharing solar facts, contacting your local representatives or state organizations, or just writing about why you love solar, there's never been an easier way to get the message out for free. Get started by following popular solar pages, like @alliance4solar, and then use your knowledge to your advantage! You never know who's watching and who could be convinced that a brighter, cleaner future depends on renewable energy like solar.
Sunrun's in New Jersey, too
When it comes to being an advocate, the best thing you can do is talk the talk and walk the walk. And when it comes to solar, we can't think of a bigger show of support than your very own home solar system. The great thing is that with Sunrun, you can do both without breaking your budget. With a solar lease or PPA, you'll spend as little as $0 upfront to get setup and begin enjoying home solar. And with protections provided by our worry-free service you'll be sure to rake in savings for the lifetime of your system. It's a simple deal that we're proud to offer and we know it works because homeowners like you tell us every day. So don't wait — reach out to one of our solar consultants, get a free quote and start saving day 1.
"Solar advocacy" may seem like a huge task on its own. We hope however that with this list, we've shown that nothing could be further from the truth. With the right info and the right initiative, ushering in a future built on renewable solar energy can be a piece of cake!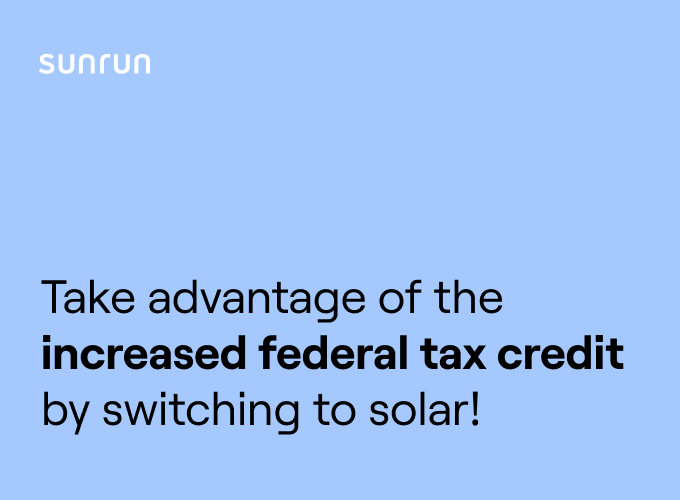 See if you qualify for the
26% federal tax credit