2017 was an outstanding year for Sunrun and for our customers. We celebrated our 10th anniversary and brought clean, resilient and affordable solar energy and battery storage to new markets across the country. Since 2007, we have saved our customers more than $150 million on their energy bills and generated more than 2.4 billion total kilowatt-hours of clean energy.
Importantly, we were able to provide relief for regions that were tragically impacted by climate change and extreme weather in Texas, Florida and Puerto Rico. Above all, Sunrun made solar power more accessible than ever for our customers, enabling them to support a sustainable planet and gain energy independence.
Here are some of my favorite moments from the last year:
We Celebrated 10 Years of Solar
Our tenth anniversary this year brought with it many major milestones. We've made going solar more accessible than ever by bringing our "solar as a service" model to more than 160,000 customers in 22 states. We also created more than 3,000 clean energy jobs, helping to power local economies by committing to hire teams from the communities they serve. This year, Sunrun also reached a record of more than 1.1 gigawatts of cumulative solar energy deployed*, which eliminated more than 1.7 million metric tons of CO2 from entering the atmosphere. Numbers aside, I'm incredibly proud of how far we've come in the last 10 years and I can't wait to see what the next 10 will bring.
We Brought Solar to Seven New States
As energy costs across the country continue to rise, many people are recognizing both the economic and environmental benefits of solar energy. Sunrun enables thousands of families to go solar without purchasing solar panels up front or taking out a loan. This year, we brought this opportunity to more families than ever by expanding to seven new states. Now, families in Nevada, Florida, New Mexico, Rhode Island, Texas, Vermont and Wisconsin have more choice and control when it comes to powering their homes.
We Surpassed 1 Gigawatt of Solar Installations
One of our biggest accomplishments this year was surpassing one gigawatt of cumulative solar installations. Why is this such a significant step? Let's put that number into perspective. One gigawatt is equal to one billion watts, or about 100 million LED light bulbs. That's quite a lot of energy. In fact, it's the energy equivalent of 333 million charging cell phones, six billion spinning hamster wheels and, of course, one time jump back to the future in a Delorean. It's no wonder our team was so excited.
We Introduced Brightbox, a new Solar Energy and Battery Storage Service
Brightbox is the future of home energy. It is a solar energy and battery storage service for the home that manages household solar power, battery storage and utility power all in one. Homeowners can have peace of mind with the knowledge that they have control over energy bills and  backup electricity if a power outage occurs. Brightbox's smart battery allows homeowners to store the solar energy they don't use to offset peak energy rates and power the critical parts of a home during outages. Already established in Hawaii, we brought Brightbox to the mainland this year in California, Arizona and New York. We look forward to bringing Brightbox to more locations in 2018.
We Provided Critical Assistance to Puerto Rico and Demonstrated a Smarter Way to Rebuild the Grid
After seeing the devastation Puerto Rico faced after the hurricanes, we knew we needed to help. Sunrun partnered with Empowered by Light and firefighters to equip two fire stations with solar power and battery storage. We donated two 6.6 kilowatt solar and battery storage systems to power life-saving equipment for fire stations in San Juan. We were able to install this technology under very challenging circumstances in less than two days and deploy the electricity immediately -- allowing firefighters to run critical systems day and night. A third station will be installed in early January, and we've committed to five more stations in early 2018. We are also working with The Solar Foundation to bring solar to several markets and rural hospitals throughout the island in desperate need of power.  
We Joined Forces with Major Partners to Bring Solar to New Customers
This year, Sunrun formed strategic partnerships with both Comcast and National Grid to bring solar energy and battery storage to households across the country. We know that many homeowners are interested in clean, affordable energy, as well as the backup power and energy independence that comes with solar energy and battery storage. Our partnership with National Grid explores how utilities can use distributed energy resources to strengthen the electricity grid and improve reliability. Everyone benefits from a grid that is more reliable because it's drawing on local clean energy.
A bright new year
Sunrun has made great strides this year and I am even more inspired by what we can accomplish next year. My biggest learning from 2017 is the huge positive impact that distributed power through rooftop solar and battery storage offers American households: be it by providing power through winter storms, or constructing a resilient, dynamic electricity grid of the future. The future is exciting. In 2018, Sunrun is dedicated to bringing the benefits of clean, affordable, resilient solar energy to more Americans.
Power forward,
Lynn Jurich
*as of November 2017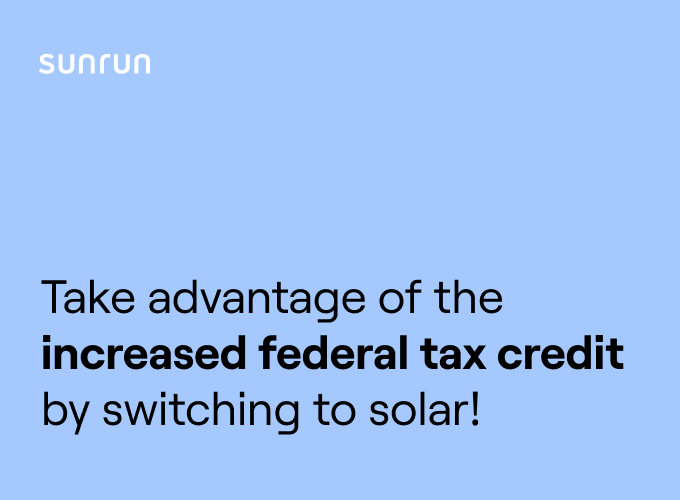 See if you qualify for the
26% federal tax credit