Power Your Electric Vehicle with Solar Energy & Battery Storage
What powers your electric vehicle? Electricity. Most EV owners are powering up their cars by plugging them in at home, and many are doing it with solar.1 Although states are planning for convenient EV charging stations across the country, it's also a good idea to plan for a smart home to power your smart car.
There are gas savings for EV owners and long term energy savings for homeowners with a solar system. This dynamic duo not only lowers your environmental impact and carbon footprint, but it helps you save. Maximum savings on both utility rates and harmful emissions. Who doesn't like a win-win?
Four in 10 EV Owners Use Solar Energy to Power Their Cars
Studies suggest that electric vehicle owners drive more efficiently and conserve greater amounts of energy across the spectrum.2 In short, EV owners care about their carbon footprint. And some states indicate that four out of ten EV drivers are using, or considering using, home solar panels to generate electricity.3
Sunrun's Brightbox™ Battery Storage and Residential Solar Panels
Everybody is thinking solar. There are good reasons why. Solar panel costs have shrunk dramatically in the past few years. Solar energy's positive effect on our planet – reduction of harmful CO2 emissions – is scientifically undeniable.
Currently, solar power cost less than current utility rates.4 Both solar and EV owners have tax credits and incentives from the state and federal level to purchase an electric vehicle and to purchase a residential solar system.   
Sunrun is happy to be in this mix. We have installed thousands of solar rooftop systems across America and have helped our customers reduce costs and gain long term savings.
SOLAR SAVINGS ARE BIG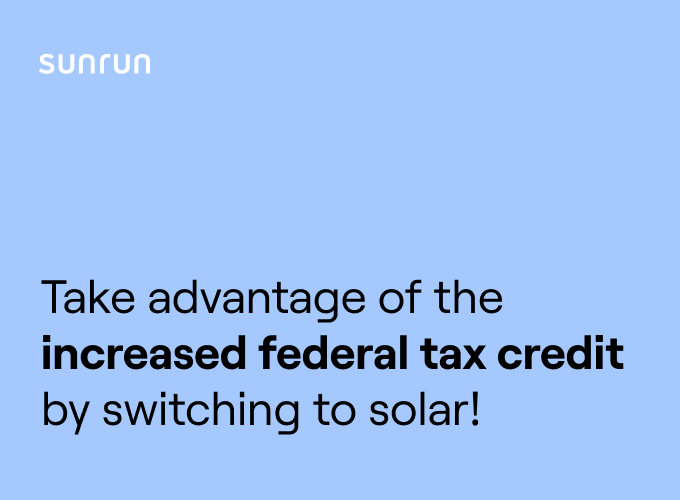 See if you qualify for the
26% federal tax credit
Get the Facts: Electric Vehicles & Solar are Now More Affordable
As we said above, government tax incentives and credits are making electric vehicles and solar systems increasingly popular.5 For example, New York and 11 other Northeast states created the "Transportation and Climate Initiative" in 2010 with the goal of reducing their collective carbon footprint.6
EV sales around the world as of December 2017: China roughly 1.3 million; Europe 950,000; and 370,000 in the U.S.7 By the year 2040 there will be 30 EVs on the road for every one hundred cars.8
And solar? Currently, the world is generating enough solar power to distribute energy to roughly 30 million residential homes.9 The cost of solar has been dropping steadily for the last couple years. And this isn't just for solar panels. Lower costs are also affecting inverters, trackers and labor costs.10 Costs are getting lower around the planet and providing jobs. Everyone is benefitting.
Keep Your House & Car Running with Sunrun Solar
It's never been easier to make a green, smart home with solar energy. Solar panels in combination with a backup battery when the sun goes down - or when the power goes out – will keep both your house and your car humming along.
Sunrun's Brightbox solar battery storage service keeps your house green – and your car green, too.  This, in turn, keeps the planet green. This trio grants you amazing long term savings with the satisfaction of doing good for our planet. We like that.
Energy Independence with Sunrun's Brightbox™ Plus Solar Panels
Generators are commonly used as backups to power through an outage. Generators produce toxic fumes, must be kept far from your house, are noisy and use gas or diesel that must be replaced. You're tied to your generator when you use it.
With Sunrun Brightbox there are no harmful effects, no extra noise, and no gas or diesel required. Our battery storage system is charged by solar panels and powers on during a blackout for approximately 8 to 12 hours. It's that easy. And when the sun comes back out, your panels start recharging your battery again.
This means you can keep your car and your home powered up during blackouts or power outages. And you can also use battery storage during off-peak hours, giving you more energy independence over increasing utility rates and greater control when you need it the most.
We are an Environmentally Conscious Nation
Millennials and Generation X have pushed the awareness envelop toward climate change in a big way. And Baby Boomers are buying EVs and solar systems across our nation at a fast rate.
We all care about the environment and we care about our collective carbon footprint. We want to make contributions toward a sustainable planet. However, here at Sunrun we're quite certain that the world doesn't care how old you are.11 The important thing is creating a cleaner, and greener planet.
We can all be proud that our nation is waking up to a sustainable future.
How Much Does it Cost to Power-Up Your Car with Solar?
When the sun goes down, or during a power outage or blackout, we still need to get to where we are going. We still need to use our appliances, we still need the lights on and we still need to get to work.
Did you know that it costs $1,284 per year for gas, traveling 50 miles per day? And it costs $734 to power-up your car with solar. That's $550 that can be spent on something other than gas.12
Add that to what you are saving on powering up your home and your appliances by using Sunrun's solar system and battery backup. Combined savings have great potential – keep the green in your pocket where it belongs!
Welcome to the Future of Home Energy Storage & Electric Vehicles
Whether it's for tax credits or carbon footprint or you simply can't stomach the rise in gas and electricity prices, it's clear that electric vehicles, solar systems and battery storage for our cars and for our homes is in our collective future. And the future is now.  
Sunrun wants to be a part of reducing our carbon footprint, and a part of your energy savings. Contact us and talk with one of our solar technicians today. First, start with a complimentary solar quote.