Bring home solar savings in New Jersey
Shack up with solar and control your utility costs year round. New Jersey is home to great culture and food. But it's also home to rising energy rates and that's no fun. As a homeowner, we know you need a break from these hikes and we believe we have just what you're looking for: solar energy.
With the power of the sun, you can fight back against rising utility bills and be less of strain on the environment. That's because solar is clean, renewable and the best part, affordable!
All you have to do is sign up with Sunrun. With us, you'll get everything you need. Here's how we get it done:
We really do it all
With our years of experiences, professional installers and consultants, we treat your solar journey as an opportunity to go full service, including:
Free consultations on how to go solar and what works best for you
Careful and thoughtful design of a solar system that's a custom fit for your home
Installation and construction of your solar system by local and Sunrun-certified professionals
Complete and inclusive handling of the permits and paperwork needed to clear your system for use
Lifetime coverage of your system with 24/7 digital monitoring, multi-year warranties and great service guarantees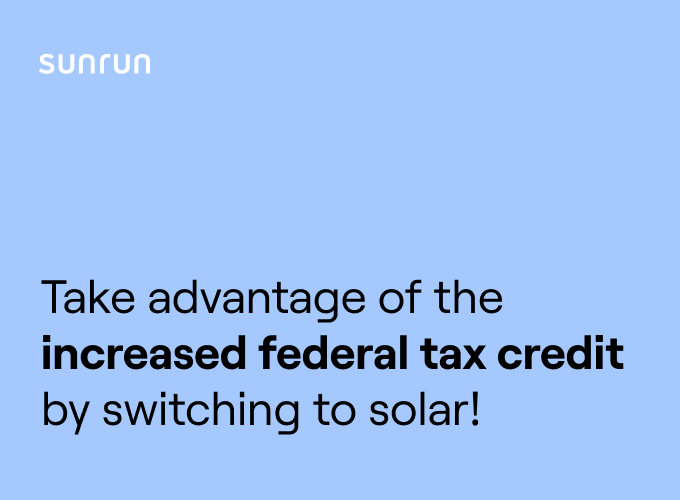 See if you qualify for the
26% federal tax credit
We work with your budget
We know it may be scary leaving your utility and embarking on a solar journey. Especially when you begin to think about the costs associated with it. But don't worry too much — we offer some of the best financial options on the market. Whether it's a Sunrun solar lease, our solar PPA's or one of our other offerings, you'll be able to responsibly invest in your future. And in many cases, you'll owe little to $0 upfront for your solar system!
We want to work with you
IUtility rates aren't coming down any time soon. So what's stopping you from trying something new, controlling your energy costs and treating the environment better? All you have to do is start with Sunrun and the rest is easy. Get your free New Jersey home solar consultation today!