Take the Heat Out of Your Summertime Bills with Solar Energy
During the summer months, everyone is looking for ways to save while keeping their home cool and comfortable in the hot weather. This crucial need drives Americans like you blast air conditioners, increasing the demand for power from the grid which makes electricity rates spike and that end up sucker-punching you with pricey utility bills.1  
While upgrading to a smart thermostat, insulating your home or installing a ceiling fan can help you save money on air conditioning in the summertime,2 these type of actions may only give you savings within a single-digit percent margin.
Fortunately, home solar panels have become an affordable option for millions of Americans.3 So taking the solar leap now to power your home with clean, affordable and reliable energy, is a move that will help you and your family save thousands of dollars on electric bills in the near future.
Summers Are Getting Hotter and Lasting Longer — but Solar Can Help
Based on data from James Hansen, a retired NASA climate scientist and professor at Columbia University, summer temperatures have changed drastically over the past decades. Between 2005 and 2015, around 60% of the analyzed sites were in the hot category, and nearly 15% were in a new category: extremely hot.4
Summers in several U.S. cities are now either hot or extremely hot compared with the mid-20th century, and in many U.S. states air conditioning is no longer a luxury item, it is a fundamental component to living a normal life.
Yet, when your home is connected to the energy grid, your AC unit needs fossil-fuel based power to run, and though its job is to help you stay cooler, it is proven that air-conditioner use contributes to global warming and hotter summers.5 Ironic, right?
But there is no need to feel guilty about this! Switching to solar today with a company like Sunrun is one of the best ways to reduce your carbon footprint while combating rising electricity prices.
How SunrunTM Solar Saves You Money on Air Conditioning
According to studies, as many as 87% of U.S. households used some form of air conditioning in recent years, up from 68% in 1993.6 In fact, the U.S. Energy Information Administration (EIA) estimates that 18% of annual residential electricity use is for air conditioning,7 and it also forecasts that the average American homeowner will spend over $400 throughout this year's summer cooling season (June-August). Thatt's an increase of more than 3% compared to last one.8
If you decide to install Sunrun solar panels on your roof, you can offset some or all of the costs you might end up paying for electricity this summer and beyond. See, during this season, the days are longer and sunnier. Meaning, your system will generate more power, more savings — and, if available in your state, more Solar Renewable Energy Credits (SRECs),9 which can translate as extra energy savings or additional income depending if you leased or purchased your solar system.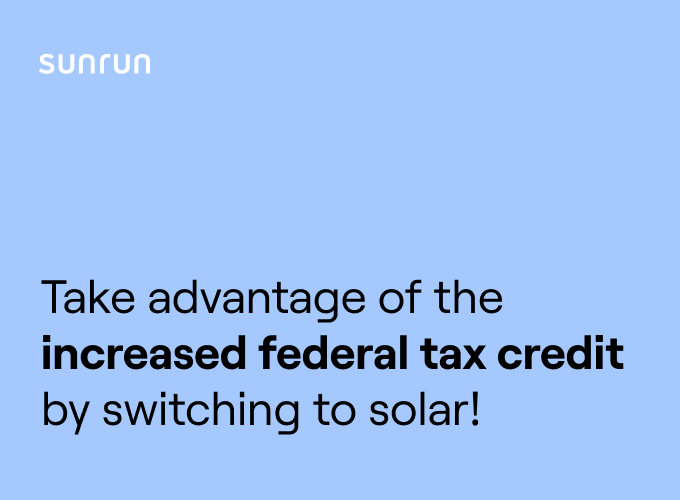 See if you qualify for the
26% federal tax credit
Keep Your Cool, Solar with Us Starts at Little to $0 Down
Lease your system with Sunrun's BrightSave™ Monthly for as little as $0 down. You will get the same dependable power as full ownership, but with the added perks of a professionally managed and maintained system along with predictable rates for the next 20 years.
Or if you are tired of utility bills, with BrightSave™ Prepaid a simple, one-time upfront payment will give you 20 years of solar power at a lower rate than your current utility; as well as a bumper to bumper coverage for the life of the product.
Your Summer Savings for Years to Come
Purchasing your system from Sunrun will not just save you money on the energy you use to cool your home this summer, it will also help you build equity in your property. And with Sunrun BrightBuy™ or BrightAdvantage™, you can pay for your system upfront or through a flexible loan for $0 down.
Energy independence this summer — and the many years that follow it — are yours for the taking! Experience the pride of ownership today, and cash in on the 30% federal solar Investment Tax Credit, as well as the available solar incentives in your state.10 Plus, Sunrun guarantees the highest-quality craft, along with an industry-leading roof penetration warranty to protect your home against leaks.
Don't Sweat It! Protect Yourself from Outages with Sunrun Brightbox™
As if 90+ degree temperatures were not already bad enough, our country's power grid blacks out more than any other developed nation,11 which means that a considerable number of U.S. residents also have to come face-to-face with troublesome summer outages.
Beyond suffering from excessive perspiration or spoiled refrigerated foods, scientific research has shown that extreme heat can be every bit as deadly as extreme cold, particularly to babies, senior citizens, or those who are already in fragile health.12
Make your home immune to summer outages and high electricity bills with Brightbox, a holistic service with a home battery unit, powered by your solar panels, which can keep your home run on solar energy through power outages and blackouts. It is an affordable solution, too, especially when you consider that it is self-sufficient and that you will stop spending money on gas or diesel, Brightbox is a cleaner, safe alternative. 
At Sunrun, we are here to help you every step of the way. If you are looking to speak with one of our solar advisors to begin your sun-harnessing journey, request your free, customized quote.