Beat Rising Rates & Outages with Solar Panels & Battery Storage in Tucson
Tucson is a picturesque and ever-changing city, part of our nation's Sun Belt region. It gets an average of 286 sunny days per year,1 which serves as proof that Arizona receives the highest amount of solar irradiation in the country.2 Meaning, a solar system in this land will generate nearly twice as much electricity than in other states.
If you want to unbuckle all this power of the Sun Belt to take control of those AZ rising electricity bills (+9% in the last 5 years),3 at Sunrun, we're here to guide you every step of the way so you can save thousands of dollars for years to come.
Find More Savings with Sunrun Solar & AZ Solar Incentives
On top of all the savings you'll generate from the solar panels on your roof, Arizona residents are eligible for state and federal benefits that could help you save even more money each month. Such as the country's leading solar property tax exemption, excellent net metering programs, and a fantastic 30% federal solar tax credit.4 Add in low, stable energy rates for up to 25 years, and you'll understand why going solar in "The Grand Canyon State" is a smart move for Arizonans.
The Heat Is Dry, but at Sunrun We're Never Dry in Solar Options.
Forget about struggling to find the best solar plan for your home. With us, regardless if you choose to buy, lease or finance your solar panels — you can rest easy knowing that your plan will be customized to match your unique budget and energy needs.
Since 2007, hundreds of thousands of Sunrun customers have chosen to electrify their homes with clean, affordable, and renewable energy; helping Americans save hundreds of millions of dollars on their utility bills.5
Free Yourself from AZ Power Outages with Sunrun Brightbox™
Brightbox is a holistic service, which includes a home battery unit powered by your solar panels, that can keep your home's appliances and devices running for approximately 8 to 12 hours during an outage. Plus, is utilizes Time of Use (TOU) to help you continue saving money as electricity rates change during the day. Brightbox is the future of stored energy.
You Can Go Solar For Little to $0 Down
How does saving big on your total electricity costs and getting 100% peace of mind for no money down sound? Smart, of course! There's no wonder why BrightSave™ Monthly is our most popular plan. We'll even handle the maintenance and monitoring. It's solar so affordable we're practically giving it away.
Or if you prefer the worry-free benefits of a lease with no monthly payments … well, BrightSave™ Prepaid is solar as simple as it gets. With this plan, you're only a one-time upfront payment away from locking in up to 25 years of energy at a lower rate than your current utility, along with bumper-to-bumper coverage for the life of the product. 
Become a System Owner and Get Even More Benefits
With BrightBuy™, you'll own the solar panels, the savings, and the 30% federal tax credit. Just like that. It'll also help you build home equity. And with solar systems designed to last 30 years or more, you're looking at some serious long-term savings!
Want to keep the tax credits, your home a value boost and save big? BrightAdvantage™ will work for you. This plan lets you get started with low, fixed monthly payments, competitive rates, and no upfront cost. Solar ownership has never been easier.
The Time to Go Solar is Now
Get in touch with our solar advisors to request your free, personalized quote and bring into your home the astonishing power of solar today.
Energy Resources
Solar resources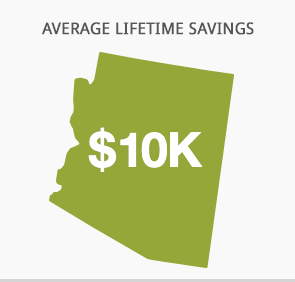 SOLAR SAVINGS ARE BIG
See if you qualify for solar