Home solar in Cape May County, New Jersey
With mild winters and plenty of wineries, Cape May County is just right for homeowners. That's why we know you love being here. Even still, Cape May County is just as susceptible to rising energy rates in New Jersey as its neighbors. That's because utility companies across the nation provide power based on constantly changing energy markets. This often translates to you playing a guessing game every year with power bills.
We're sure you, and your wallet, don't appreciate that. Which is why you should consider solar energy. With home solar panels from Sunrun, Cape May County homeowners like you can enjoy some needed relief.
That's because it's affordable and efficient — our home solar systems utilize the best in solar technology so that every bit of power you produce benefits your home and your budget. That means you can cut your power bill costs, enjoy a clean and renewable energy source, and even get energy credit if your system overproduces.
And to think it's all possible just by taking advantage of something as simple as sunlight. All you have to do is check out your local solar companies in Cape May County and make a choice.
Going solar in Cape May County is affordable & easy
With so much sun just shining in the Cape May County, we're sure there are plenty of solar companies that you can work with. But, the real question is: which one is right for you?
Home solar panels and their associated costs are a huge investment and we'd never advise you to rush into it. That's why we think you should review the facts about Sunrun. As the largest dedicated home solar company in the country, we make it our to ensure you get the savings you deserve.
That's why we know everything under the sun about the sun, and it shows. From our expert knowledge to our simple process to our strong relationships with local partners, you have everything you need to do Cape May County solar right. And that's just the beginning.
When you talk to one of our solar consultants, you can learn all about about the perks of going solar with Sunrun, including:
Saving 20%* on your electric bill.
Multiple, flexible options for financing.
A custom-designed home solar system.
Protection from rate increases for the lifetime of your system.
Solar installation by trusted and certified Sunrun partners.
The best warranties in the industry.
24/7 live monitoring of your home solar system.
With all these great benefits choosing Sunrun couldn't be easier. So what're you waiting for? Get a free quote today and get a headstart on cleaner energy and better savings in no time.
Eric & Denise's Cape May, NJ Solar Story
Eric first considered getting solar a few years ago. He looked into solar panels for his roof, but the upfront cost of purchasing a system was very high. In addition, his roof couldn't accomodate a large enough system for his energy usage.
A few years later, Eric started seeing more and more solar panels in Cape May, and decided to give home solar a second thought.This time, Eric looked into a ground-mount solar system, instead of a rooftop solar system. Eric decided to put part of a field on his property to work – producing solar energy.
He contacted his local solar installer, Trinity Solar, who told him about Sunrun solar power service. With Sunrun, Eric didn't have to purchase the panels himself. Sunrun bought, owns, and maintains the system and Eric pays for solar electricity from Sunrun. "My system is maintained by Sunrun, insured by Sunrun, and," Eric explained, "if something happens, it's not my problem."
Eric was very happy with the entire installation process with Sunrun and Trinity Solar - they kept him updated on timelines and his Trinity sales representative was extremely knowledgable. Eric is already seeing savings from going solar in Cape May.
Last summer, he'd seen bills of $480 in July and August. Now, he's paying the minimum maintenance fee to his utility company, ACE, and is already accruing solar credits. "My system is doing more than I ever expected," said Eric.
Energy Resources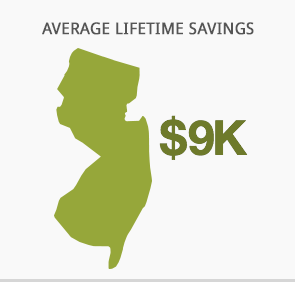 SOLAR SAVINGS ARE BIG
See if you qualify for solar