Home solar in Pompton Lakes, New Jersey
In Pompton Lakes, you're probably worried about the same things that many homeowners across the country are — what's for dinner, what your weekend plans are, and how to pay some bills. That's why it's time for you to consider solar energy. Traditionally, utility companies offer you an ultimatum every year — pay your bill, or don't have power.
The problem is that you have no say in how much you're paying. This is really bad when you consider the fact that utility companies power your home with energy based in constantly changing markets. These markets produce unpredictable prices on non-renewable energy, forcing you to foot the bill every month. That's no fair to you or the environment. That's where home solar comes in.
With home solar panels from Sunrun, you can say goodbye to these costly and unpredictable energy rates. Sunlight is clean, renewable, and efficient. And when you use your solar system to produce power for your home, you can lock in a low rate for the lifetime of your solar system.
That's 20 years of savings with clean, affordable energy. That sounds like a whole new sense of financial security and independence from the grid to us. What do you think?
Going solar in Pompton Lakes is affordable & easy
Pompton Lakes has lots of things going on, and solar energy is one of them. That's why Sunrun has set up shop here. We're really committed to helping residents of this great state save money on their power bill — today, tomorrow, and in the future. And we have the experience and resources to do it. As the largest dedicated home solar company in the country, we've developed a personalized and simple process that allows you to enjoy the benefits of solar energy quickly and easily.
With just a simple phone call, you'll be well on your way to getting a customized solar design for your home. This design is implemented by one of our extensive network of local partners. By working with them, you can enjoy quick and professional solar installations from certified folks who live near you. They're verified by Sunrun, so you can trust that you're in good hands.
And, with our 24/7 monitoring of your solar system, you'll have a lot less to worry about in the long-run. That's because whether it's an equipment failure or a simple checkup, Sunrun will be on it faster than you can say "solar savings"!
The best part is, all of our services are provided under flexible financing, including solar leases and PPA agreements, allowing you to benefit from solar on your own terms and within your budget. So what're you waiting for?
Check out our service areas and see if we can help you make the switch in Pompton Lakes today!
Ed's Story
Ed first started dreaming of a solar powered home ten years ago. Then, in the summer of 2001, he moved into a new home, which he quickly realized was perfect for solar power. Facing the southern skies, his roof had a completely unobstructed view of the sun.
Ed started applying for grants for solar panels at the Federal, State, and County levels. He also started contacting solar power installers for a price quote. He was typically quoted a little less than $50,000 for a complete solar system. After his New Jersey solar rebate, the system still required a payment from Ed for over $25,000. He looked into solar financing options with his utility company, JCP&L, which offered solar loans, but it wasn't a feasible option for Ed.
 Everything changed in 2009, when Ed saw an article about Sunrun, a solar company based in California who was now offering solar power purchase agreements in New Jersey.
 When Ed learned that Sunrun would pay for and install the panels, take care of them, and replace inverters as needed, Ed was thrilled. After all the trouble trying to figure out how to pay for his much-wanted solar system, all Ed had to now pay was $600 to get started.
 The installation took three days. Watching his electric meter spin backwards after many years of spinning in the other direction brought tears to Ed's eyes. His solar dream had finally come true.
 Read Ed's guest post on our blog, as well as the piece he wrote for his hometown newsletter on Sunrun!
Energy Resources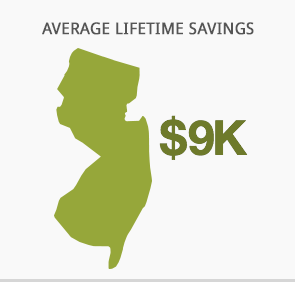 SOLAR SAVINGS ARE BIG
See if you qualify for solar