Savings With Sunrun™ Solar In Dutchess County, NY
When we came across this farmer's quotes about solar in Hudson Valley, we couldn't resist sharing: "The sun nurtures my plants, my plants nurture animals, my animals then nurture my plants with manure. So it makes sense to have the sun nurture my electricity."1 Pure poetry, we thought.
In Dutchess County, New York, there are roughly 678 farms. These farmers plant everything from grains, fruit, Christmas trees, hop seed and a lot more. Farmers in both large and small businesses are growing produce that we eat everyday on a total of 196,164 acres.2
And we have covered a lot of acres, too, with our residential rooftop solar system. To date we have installed solar for thousands of customers across America. And with Sunrun you also get plenty of financing options to protect yourself from rising energy rates. We think there's poetry in that, too.
Power Outages with Brightbox Solar Battery Storage Service
New Yorkers suffer from their share of blackouts due to bad weather conditions. Just last March a severe thunderstorm affected New York and other states - leaving 10 million without electricity.3 And before that Hurricane Sandy left millions without power, too.  Keep your food cold, your lights on, and enjoy greater peace-of-mind during a power outage with our Brightbox™ solar battery storage service.
Solar Battery Storage Incentives Coming to New York
After seeing firsthand the devastating effects of Hurricane Sandy, New York's Governor Cuomo began an ambitious quest to rebuild, strengthen, and revitalize the state's energy system through his strategy: Reforming the Energy Vision (REV). Included in this strategy is a state incentive for residents of New York to acquire solar battery storage as an addition to their solar systems. The details of this incentive are yet to be released but are expected to hit the market in 2019.
Stay tuned for how this New York solar battery storage incentive can play a role in your solar decision.
Say Goodbye To Rising Utility Costs
You can go solar immediately for as little as 0% down and start saving 20% on your electric bill. With BrightSave™ Monthly there are no upfront costs for your panels, equipment and custom installation.
Another popular option is our simple, one-time upfront payment through BrightSave™ Prepaid. This locks in 20 years of worry-free electricity. And our performance guarantee is one of the best in the industry.
Ownership Options for More Savings
No more tedious monthly payments when you purchase BrightBuy™ from us. Just clean energy, a smaller electric bill and great energy savings. And don't forget about NY's flexible tax credits!4
Or finance your solar system with BrightAdvantage™ and get fixed monthly payments, a competitive interest rate and no upfront cost. Keep the tax credits, build equity in your home5 and begin saving money.
36,000 Reasons to Go Solar Today
Over the next 20 years the average US homeowner can expect to pay their utility over $36,000 in energy bills.6 Our solar advisors are ready to customize a system for your energy needs. Get a complimentary solar quote and start saving today!
Energy Resources
Solar resources
Utility Resources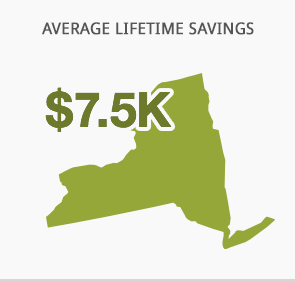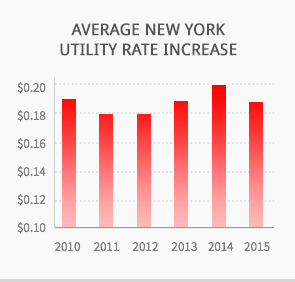 SOLAR SAVINGS ARE BIG
See if you qualify
Go solar in 3 easy steps