How To Buy Solar Panels with No Credit Check
So, you've been thinking about reducing your carbon footprint and lowering your electric bill by possibly going solar for months, maybe even years, and now you are ready to purchase a solar system but don't want that annoying credit hassle. We get it. That's why Sunrun has specific plans made just for you. Take control over rising electricity prices today, by owning your own solar panel system.1
Own Your Home Solar System & Battery Storage
You're tired of being on the tail-end when it comes to managing your energy needs and you want to make the decisions. Just recently, PG&E in Northern California purposefully shut off electricity to nearly 60,000 residents for more than 24 hours due to wildfire concerns.3
We respect that, of course, but guess who wasn't sitting in the dark for two days? Residents who bought a home solar system and battery storage (currently only available in select states). These households will never be at the mercy of blackouts or power outages again.
So there is something you can do, right now, to make a difference and regain control at the same time. Get your solar energy system installed by some of the best in the industry with Sunrun and say goodbye to rising energy bills, or a house without power, again.
Going Solar On Your Terms
Some Sunrun customers want to own their own solar energy system. Buying is a great decision and a considerable investment, and paying cash gets you big benefits over the long term. There are good reasons to own a solar energy system that are hard to ignore. Like, paying cash and skipping the credit checks. Or, keeping the tax benefits and incentives. And, building equity in your home; along with so much more.  
We've taken the liberty to further highlight some of these advantages below.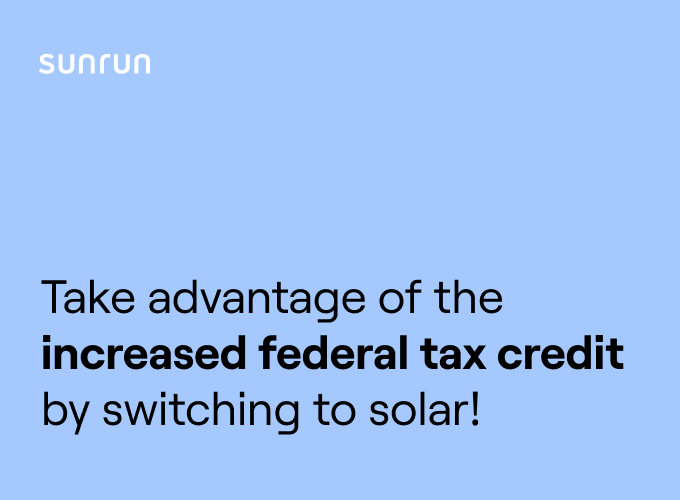 See if you qualify for the
26% federal tax credit
4 Advantages When You Purchase a Solar System
1. Get federal tax credits and incentives. The federal tax credit allows you to deduct 30% off the cost of installing a solar energy system. And many states have great incentives for renewable energies. A professional solar company should walk you through all opportunities. Expect to pay a lot less for your solar energy system after you factor in these advantages.4
2. Lower your electric bill. Expect to reduce your current electricity bill by 70% to 100% depending on where you live and local regulations. Buying your solar panel system outright can save you as much as $60,000 over 20 years.4 Most systems pay for themselves in five to seven years. And most systems last 30 years or more.5
3. Owning solar panels adds value to your home. Research labs and organizations are gathering the facts and the facts look good. It's considered an upgrade, like adding a new bathroom or a guest bedroom. A study by the Lawrence Berkeley National Laboratory in California confirms that homes with solar sold for more than those without.6 And our Department of Energy reports that solar homes are selling at a premium.7  
4. System Warranty Available. Sunrun backs each purchase with our high-quality workmanship and manufacturer warranties. With systems designed to last 25-30 years, you're looking at some serious long-term savings.
Freedom and Peace of Mind When You Own Your Solar System
It's a smart decision to purchase your solar panels outright.  You can lock in low energy rates and create your own long term financial plan. And the icing on the cake? You're reducing your carbon footprint. Call us today, or get a complimentary solar quote that is specific to your home energy needs.