The City of Modesto is located in Central Valley California, a place that brings residents close to the excitement of Lake Tahoe, San Francisco, and Yosemite National Park, without sacrificing the peaceful-residential lifestyle.
Modesto has a thriving agriculture industry, too; due to its pleasant year-round weather. A climate that doesn't only favor Modestian crops; since it can also offset the high costs paid for electricity here, averaging at almost 50% more compared to other states.1 Don't you prefer to use those 260 sunny days your city gets per year2 to save more money? If your answer is yes, Sunrun is here to help you.
E. & J. Gallo Winery produces a lot of wine bottles. Sunrun's solar plans produce a lot of peace of mind.
If Modesto is home to the largest winery in the world, why not increase your sense of pride by choosing one of Sunrun's solar plans to make great things happen for your wallet? Purchase, lease or finance your solar panels with confidence – all our options can be tailored to match your unique budget and home needs.
Since 2007, thousands of Sunrun customers have made the choice to electrify their homes with clean, renewable energy; helping Americans save millions of dollars on their energy bills.3 Now it's your turn to bring solar into your future to save money.
California outages be gone!
Sunrun Brightbox™ is future of home energy storage, a smart battery able to power your devices for up to 10 hours during an outage. It also uses Time of Use to ensure you continue saving as rates change during the day; so yes, thinking inside the box kind of has a new meaning now.
Save your money for the MCFM because solar starts at $0 down
The Modesto Certified Farmers Market is where folks go for the freshest produce. And BrightSaveTM Monthly is the plan folks choose to go solar and save 20% on their electricity costs* while receiving free maintenance and monitoring for 20 years.
Or if prepaid is your way, choose BrightSaveTM Prepaid; a plan that gives you maximum savings and total peace of mind with your one-time upfront payment. A bumper-to-bumper coverage for the life of the product is also included, this is solar made simple!
Solar panels up. Property value up.
With BrightBuy™, the system will be yours, as well as the tax credits; while boosting your home's value. Plus, you'll enjoy clean, reliable energy without worrying about rising energy costs, hidden fees or surprise hikes on your electric bill.
Or, with BrightAdvantage™ you can own system and savings for $0 down; low, fixed monthly payments; and competitive rates. Ahh, solar-panel ownership and savings together at last.
Go nuts for the "Modesto Nuts" and for the solar savings, too.
The John Thurman Field is the ideal place to catch a "Nuts" game, just as your home is the ideal place to catch solar savings. Not going solar could cost you $36,000 or more in electricity over the next 20 years. That's why our solar consultants have everything set to work on your free quote; so you can change your electricity's outcome into a much brighter one starting today.
Sources:
1. https://www.electricitylocal.com/states/california/modesto/

2. https://www.bestplaces.net/climate/city/california/modesto

3. https://globenewswire.com/news-release/2017/08/07/1081219/0/en/Sunrun-Re...
*Estimated savings based on a projected annual utility rate increase of 3.16% over the life of the system. Actual savings will vary. Savings depends on several factors, including product type, system production, geography, weather, shade, electricity usage, full utilization of the 30% solar Investment Tax Credit by the system owner, and utility rate structures and rate increases. Analysis based on customers who enrolled with Sunrun between October 15, 2014; and October 15, 2015.
Sunrun Cities
Energy Resources
Solar resources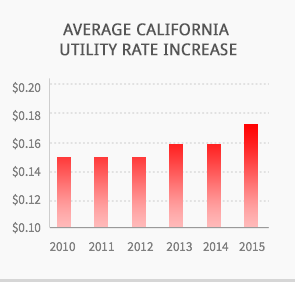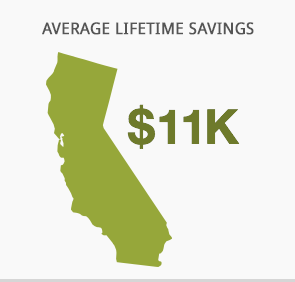 SOLAR SAVINGS ARE BIG
See if you qualify
Go solar in 3 easy steps