Sunrun Solar Is Here to Put You in Control of Your Electric Bills
The California sun loves Rocklin and pays its visits around 255 days each year.1 Beyond making sunscreen a daily thing, sunlight can also be harnessed with the help of Rocklin solar companies like Sunrun to create your own power at home, control your electricity usage and reduce your carbon emissions for decades.
Switching to solar energy in Rocklin, today; is a move that can give you the peace of mind that you deserve. This is especially true when you consider electric rates in Rocklin are around 30% higher compared to cities in other U.S. states.2
California Is One of the Best States to Go Solar in the U.S.
On top of the savings you could generate from your roof, California residents are also eligible for some great solar incentives.
Like California's Net Energy Metering (NEM) policy that allows residents to receive bill credits for the excess energy they create,3 and local rebates depending on the performance of the home solar system; as well as a 30% federal tax credit if you choose to buy your system.4
California Solar Incentives, Rebates, & Tax Credits
| Solar Savings Types | Value of Savings |
| --- | --- |
| Federal Solar Investment Tax Credit (ITC) | 30% of the total system cost |
| Other Programs | Variable (Net Metering) |
| Local utility solar rebates | $0.20 to $1.25 per watt |
**Customer's ability to monetize rebates, incentives and tax credits depends on several factors, including, without limitation, continued state subsidization of these policies, the applicable Sunrun product type, and whether a customer purchases or leases a solar system from Sunrun.
How to Go Solar in Rocklin
With Sunrun, you have several solar plans to start your solar journey, as well as an industry-leading 25-year guarantee. Regardless if you decide to lease or purchase your new Rocklin solar panels — with or without a solar battery — you can feel secure that you'll get the best solution for your unique budget and home energy needs.
Why Choose Sunrun?
Since 2007, hundreds of thousands of Americans have chosen Sunrun to power their homes with clean, affordable, reliable energy. Helping customers save hundreds of millions of dollars on their electric bills* and produce nearly 4 billion kilowatt-hours of clean energy.5 Yes, solar is as reliable as the sun itself.
Solar Helps You Keep Your Lights on During Power Outages
As energy demand increases and extreme weather events make power outages and related wildfires more common in California; now, and more than ever, American families deserve access to cleaner, safer, and more reliable energy solutions.
Studies have shown that clean, renewable energy like solar panels with a battery can reverse this phenomenon in its tracks while meeting the energy needs of communities in the Golden State.6
Store Your Sunny Days for a Stormy Day with a Brightbox™ Home Battery
Brightbox is more than a solar battery in Rocklin. It's a holistic service with a home battery, charged by the panels on your roof, that lets you store the excess energy you produce and use it when you need it most, like during power outages, or at night, for approximately 8 to 12 hours.**
Brightbox also comes with professional maintenance and monitoring for 25 years. Two actions which may prolong your battery's life. And, with Brightbox, you'll forget about being tied to California's Time-of-Use rates to run your power-hungry appliances when there's less grid demand and still save money on your electric bills.
Sunrun Solar Plans Start at Little to $0 Down
Our BrightSave® Monthly plan, lets you lease a home solar system and enjoy the same dependable power as full ownership. But with the added perks of professional maintenance, monitoring, and predictable electric rates for the next 25 years. BrightSave Monthly is so affordable; it's just too bright to ignore.
Want to ditch the monthly solar bills and forget about rising electricity costs, hidden fees and surprise hikes on your electric bill? You should check out BrightSave® Prepaid. With this plan, a simple, one-time upfront payment will lock you to 25 years of power at today's prices. BrightSave Prepaid comes with bumper to bumper coverage for the life of the home solar system, too. Go prepaid for even more peace of mind.
Your Home, Your System, All the Solar Benefits
Purchase a brand-new home solar system by paying upfront with BrightBuy™, or for $0 down and fixed monthly payments with BrightAdvantage™, and experience the full benefits of solar energy: Putting your name on a system and the savings for life while boosting your home's value.7
As a California solar owner, you're also eligible for a 30% federal tax credit and a nearly $11,000 tax exemption.8 Plus, with solar payback times a tad above 6 years in Rocklin,9 along with home solar systems designed to last 30 years or longer, you bet serious long-term solar benefits will be yours for years to come.
We Can Help You Change the Way You Power Your Life
Going solar in Rocklin might end up saving you thousands of dollars on your future electric costs.10* So when you're ready to talk about solar, our team is here for you. See if Sunrun solar is right for your home by requesting a free personalized quote. See if you qualify today.
Energy Resources
Solar resources
Utility Resources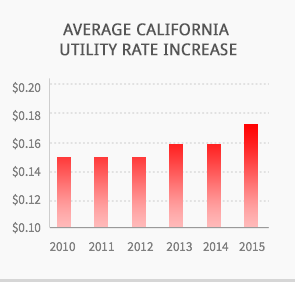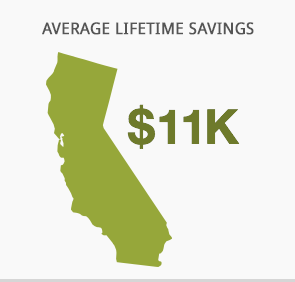 SOLAR SAVINGS ARE BIG
See if you qualify for solar