Whether it's a morning spent on the golf course, an afternoon picking cherries, or an evening at the Harvest Time Festival, there's something undeniably charming about Brentwood. Of course, all that charm comes at a cost.
We all know life in California can be expensive – the cost of living is 39% higher than the national average – but the cost of living  in Brentwood is even higher still.1 Fortunately, Brentwood homeowners have access to a highly favorable solar market, and the option to take advantage of all the savings that solar panels can provide.
How to go solar in Brentwood
Putting up solar panels is a snap with Sunrun. Whether you're looking to save on your utility costs or the peace of mind that comes with clean, renewable energy, Sunrun has you covered with the plans and technology you need.
BrightboxTM: Combining solar and battery storage
BrightboxTM is designed to help maximize your savings while providing you with a critical backup energy source in the event of an outage. BrightboxTM stores solar energy that you don't use during the day to help power your home in the evening when power tends to be more expensive. More importantly, BrightboxTM provides a critical source of backup energy  in the event of an outage, so you can rest easy knowing the lights will stay lit and your phone fully charged.
20% electric bill savings, 100% peace of mind
Go solar with $0 down. That's the simplicity of our BrightSaveTM Monthly plan. With BrightSave® Monthly, you pay for the power, not the panels. You get all the benefits of solar with none up the upfront costs, and savings of up to 20% on your monthly electric bill.2
If you prefer, you can lock in 20 years of electricity at today's prices through our BrightSaveTM Prepaid plan. You make a one-time, upfront payment, and in return you get 20 years of worry-free energy with no monthly bill. It's one of the most simple ways to lock in long-term savings.
Own your system and your savings
We get it, not everyone wants to lease panels. That's why we offer a number of options to help you own panels outright. And along with ownership comes the benefit of solar tax credits.
With our BrightBuy™ plan, you pay Sunrun a one-time upfront cost for equipment and installation services, and you own your system and your savings for life. And with systems designed to last 25-40 years, you could be looking at some serious savings.
If you'd prefer not to pay the entire cost of your system upfront, our BrightAdvantageTM plan allows you to make fixed monthly payments with a handy solar loan. Best of all, you get to keep any available tax credits and build equity in your home as you start saving with solar.
Whatever route you choose, be sure to take advantage of our additional Protection Plus warranty plan. Protection Plus is our worry-free, 20-year service package, which includes 24/7 monitoring, total system maintenance (including equipment replacement and repairs), a 10-year roof penetration warranty, and guaranteed performance.
Sustainable savings, made easy
Over the next 20 years, the average US homeowner is expected to pay their utility over $36,000 in energy bills. Don't be average. Contact Sunrun today for a free quote and find out how much you could save by going solar. Call 888-GO-SOLAR to get started.
1. http://www.areavibes.com/brentwood-ca/cost-of-living/
2. Estimated savings based on a projected annual utility rate increase of 3.16% over the life of the system. Actual savings will vary. Savings depends on several factors, including product type, system production, geography, weather, shade, electricity usage, full utilization of the 30% solar Investment Tax Credit by the system owner, and utility rate structures and rate increases. Analysis based on customers who enrolled with Sunrun between October 15, 2014 and October 15, 2015.
Energy Resources
Solar resources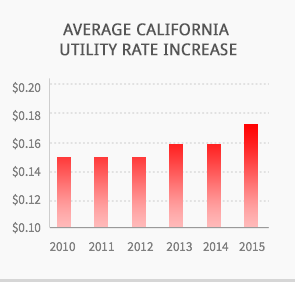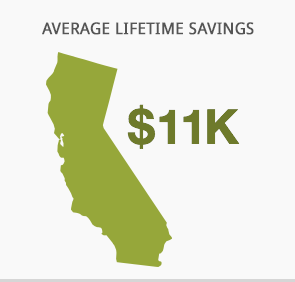 SOLAR SAVINGS ARE BIG
See if you qualify
Go solar in 3 easy steps