Kern County is nestled in the heart of Cali, a thriving community that offers a wide array of business opportunities heavily linked to agriculture and petroleum extraction; as well as leisure opportunities, like camping, river-rafting, and rock-climbing.
Being in the middle of hot spot destinations like San Diego, Vegas, and Pismo Beach; and receiving around 274 sunny days per year1 also add up to this city's interesting factor. And most especially the latter if you want to reduce the cost paid for your electricity, which in the state is almost 30% higher vs. others2. Yes, bills with greater peace of mind are an every-month thing with Sunrun.  
National and state parks offer year-round excitement. Solar plans offer year-round savings.
There are many ways to have fun here, just as there are many ways to save with Sunrun's solar plans. See, all of our options can be customized to fit your unique budget and home needs; and regardless if you buy, lease or finance your solar panels, you can rest assured big savings always come standard with our plans.
Since 2007, thousands of Sunrun customers have made the choice to electrify their homes with clean, renewable energy; helping Americans save millions of dollars on their energy bills*, which now represent over 1 GW of clean power resources.3 Who knew helping the environment could pay so well?
Leave the California outages out of your home
Sunrun Brightbox™ is the future of home energy storage, a smart battery that can power the appliances and devices you care about most for up to 10 hours during an outage**. It also uses Time of Use to assure you continue saving as many bucks as possible when rates change during the day.
We boiled down going solar to diddly-squat
BrightSaveTM Monthly lets you save 20% on your electricity* for as little as $0 down. Have you ever leased a vehicle? It's sort of like that except you save a lot of money and get free maintenance + monitoring for 20 years.
On the other hand, with BrightSaveTM Prepaid you'll get maximum savings, no monthly payments, and a bumper-to-bumper coverage for the life of the product. Talk about a nice peace-of-mind combo, right?  
Owning solar panels nourishes your property's value
BrightBuy™ is an excellent option to get full ownership of the system, savings, and federal tax credits; along with a solid value boost for your home and 20+ years of professional installation experience.
Or, you can also get started on the ownership path for $0 down with BrightAdvantage™, a plan that gives you best-in-class equipment; low, fixed monthly payments; and competitive rates. The truth is, owning solar panels has never been easier.
Feast your eyes with the scenery and your wallet with the savings
Heart Park, Pioneer Village, and the Sequoia National Forest can make your eyes twinkle; and with Sunrun, now you can make your savings twinkle by going solar. Doing nothing could cost you $36,000 or more in electricity over the next 20 years. Luckily, our solar consultants have everything set to work on your free, personalized quote; so contact them and start saving with the sun today.
Sources:
1. http://www.bestplaces.net/climate/county/california/kern

2. https://www.electricitylocal.com/states/california/

3. https://globenewswire.com/news-release/2017/08/07/1081219/0/en/Sunrun-Re...
*Estimated savings based on a projected annual utility rate increase of 3.16% over the life of the system. Actual savings will vary. Savings depends on several factors, including product type, system production, geography, weather, shade, electricity usage, full utilization of the 30% solar Investment Tax Credit by the system owner, and utility rate structures and rate increases. Analysis based on customers who enrolled with Sunrun between October 15, 2014; and October 15, 2015.
**Hours reflect a full battery powering a single device, minimum 20% capacity held in reserve
Sunrun Cities
Energy Resources
Solar resources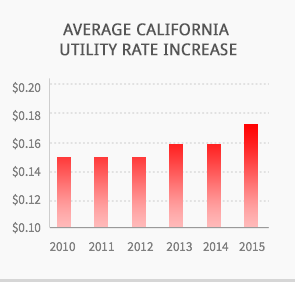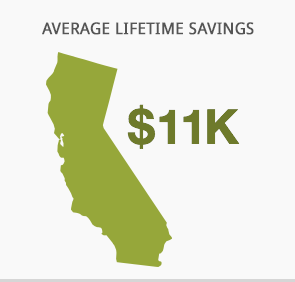 SOLAR SAVINGS ARE BIG
See if you qualify
Go solar in 3 easy steps