Here at Sunrun, we love Livermore. For starters, you're home to the world's longest running light bulb, and we've got nothing but respect for energy efficiency like that. If we're looking for excitement, we can always hit up the rodeo. And when it's time to relax, there's the wonderful wine scene to fall back on.
Life in Livermore is about as pleasant as it gets. You've got the cool breezes flowing in from the Bay at night, and an average of over 257 sunny days of per year to go outside and enjoy.1 Best of all, when you add Sunrun to mix, we can help turn all that sun into major solar savings.2
Sustainable savings made simple
As much as we love Livermore, we also love solar, and we want you to love it just as much as we do. That's why we offer solar plans and products to fit just about any budget and lifestyle. You won't find any high pressure sales tactics or bait and switch gimmicks here, either; We genuinely want to help you get your share of the savings with clean and affordable renewable energy.
Store some sun for later with BrightboxTM
If your vision of solar means taking control of your savings, then BrightboxTM is for you. BrightboxTM allows you to store excess power generated by your panels, and to save it for later when it would benefit you most. How about evenings when utility rates peak? BrightboxTM. What about at night when there is no sun? BrightboxTM. How about during a power outage where utilities go down? You guessed it; BrightboxTM.
A solar lease means solar savings
What if we told you that you could start saving with solar right now for as little as $0 down? Pretty sweet deal, no? With our BrightSaveTM Monthly plan, you can do just that. We'll customize a system to meet your needs, and handle installation. We'll even provide monitoring and maintenance for the next 20 years. In return, you make a low monthly payment for the cost of the power your solar panels produce.
If you want to really maximize your savings, then our BrightSaveTM Prepaid plan is for you. With a simple, upfront payment, you can lock in long-term savings by purchasing 20 years of power at today's rates. That's sustainable savings made simple.
Take ownership over your savings
If you want to bypass leasing and go straight to ownership, we've got your back. With our BrightBuyTM  plan, you make a simple, upfront payment to cover to the costs of your equipment. In return, we'll handle permitting, paperwork and installation, and even protect your roof with an industry leading warranty while we're at it.
If you want to avoid the upfront costs of ownership, our BrightAdvantageTM plan provides you with a simple solar loan. You pay a fixed monthly rate – with no hidden costs – and can get started today with as little as $0 down.
Whatever route you go, ownership also qualifies for some pretty amazing tax incentives, including a federal tax credit worth up to 30% of the cost of your system.
Start saving, today
Don't let another sunny day go to waste by not being able to turn it into cash in your wallet. Lock in your long-term savings today and contact SunRun for a free quote by dialing 888-GO-SOLAR.
1. http://www.bestplaces.net/climate/city/california/livermore
2. Estimated savings based on a projected annual utility rate increase of 3.16% over the life of the system. Actual savings will vary. Savings depends on several factors, including product type, system production, geography, weather, shade, electricity usage, full utilization of the 30% solar Investment Tax Credit by the system owner, and utility rate structures and rate increases. Analysis based on customers who enrolled with Sunrun between October 15, 2014 and October 15, 2015.
Sunrun Cities
Energy Resources
Solar resources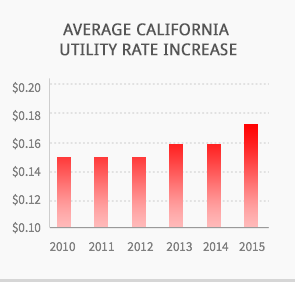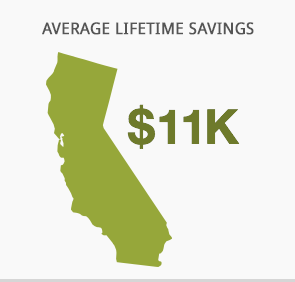 SOLAR SAVINGS ARE BIG
See if you qualify
Go solar in 3 easy steps