Given the meteoric rise in the popularity of solar panels, we've been on a lot of roofs in a lot of cities throughout California. And with a name like Sunnyvale, you can bet your bottom dollar we weren't going to let the rumors of a haunted toy store keep us away.
Namesake aside, Sunnyvale is one of those places that's just perfectly suited to solar panels. After all, the city itself receives an astounding average of over 260 sunny days per year.1 With numbers like that, solar panels have the potential to save homeowners thousands of dollars.
Smaller electric bills, greater peace of mind
Of course, there's more to solar than simple savings. There's also the peace of mind that comes with knowing you've got the capability to generate your own clean, reliable electricity, and it's a sentiment we want all of Sunnyvale to experience. That's why we offer plans and products to meet just about any budget and lifestyle.
Take control over your savings with Sunrun BrightboxTM
Sunrun BrightboxTM is our flagship battery storage technology. With BrightboxTM, you gain the potential to maximize your solar savings while simultaneously enjoying all the convenience of a powerful source of backup energy.
When your panels generate more electricity than you need, BrightboxTM is able to store some of that for later. When utility rates peak in the evenings – or the sun sets entirely – BrightboxTM can draw on your stored power to limit your reliance on the utility provider. More importantly, in the event  of an emergency or outage, BrightboxTM is able to act as a critical source of backup energy, keeping the lights lit, your fridge cold and your phone charged.
Shrink your bill, pad your wallet
Making the switch to solar should be simple; that's the whole notion behind a solar lease. With our BrightSaveTM Monthly plan, we'll customize a system to your specific needs. We'll also take care of installation, and even provide monitoring and maintenance for the next 20 years. In return, you make a low monthly payment for the cost of the power your panels produce, and just like that you're saving up to 20% on your monthly electricity costs.2
If you want to really lock in those savings, you can utilize our BrightSaveTM Prepaid plan to make an upfront payment and purchase 20 years of electricity at today's rates. There's no monthly solar bill, and no reason to ever worry about rising electricity costs.
Solar panels of your own
Sunnyvale and solar were made for one another, so it stands to reason you might want solar panels of your own. With our BrightBuyTM plan, you make a simple upfront payment to cover the cost of your equipment. We'll still handle installation, and we'll also protect your roof with our industry-leading warranty.
If you want to avoid the upfront cost of ownership, our BrightAdvantageTM plan can provide you with a simple solar loan. Simple means low monthly payments, and no hidden costs or provisions.
Whichever route you go, ownership may make you eligible for some great additional perks, such as a federal tax credit worth up to 30% of the cost of your system.
Start saving, today
Ready to turn Sunnyvale into Moneyvale? Find out how much you could save with a solar setup of your own. For a free quote, simply call 888-GO-SOLAR, today.
Sources:
1.http://www.bestplaces.net/climate/city/california/sunnyvale
2. Estimated savings based on a projected annual utility rate increase of 3.16% over the life of the system. Actual savings will vary. Savings depends on several factors, including product type, system production, geography, weather, shade, electricity usage, full utilization of the 30% solar Investment Tax Credit by the system owner, and utility rate structures and rate increases. Analysis based on customers who enrolled with Sunrun between October 15, 2014 and October 15, 2015.
Energy Resources
Solar resources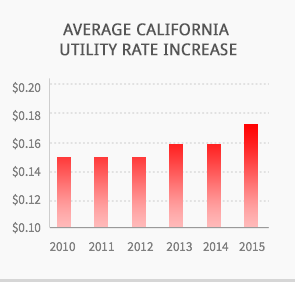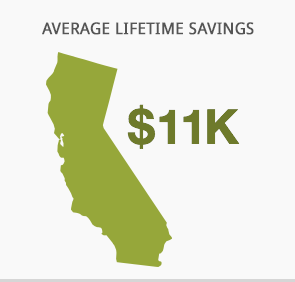 SOLAR SAVINGS ARE BIG
See if you qualify for solar