Yorba Linda, or "The Land of Gracious Living," is an astounding community that's part of O.C. County.. The city's over-performing school district, impeccable recreational facilities, low crime rate, and stable housing market, have cemented it as one of the best places to live in California.
Some folks say the Richard Nixon Presidential Library may be the greatest one in the country, but you know what else is great? Not having to pay almost 35% more in electricity vs. other states.1 How can it be done? Well, by choosing Sunrun as your solar partner so you can harness the 284 sunny days Yorba Linda gets each year.2 You should keep your savings levels positive, don't you think?
Genuinely good people. Genuinely money-saving solar plans.
Since being nice to others is the daily M.O. in Yorba Linda, and everyone's financial situation is different; our solar plans give you several types of payment options to get your set of solar panels. Regardless if you purchase, lease or finance; at Sunrun we can customize any option to match your unique budget and home needs.
Since 2007, thousands of Sunrun customers have made the choice to electrify their homes with clean, renewable energy; helping Americans save millions of dollars on their energy bills* and generated more than 2.4 billion kWh of clean energy.3
Days since your last blackout: 0 (forever and ever)
Sunrun Brightbox™ is a smart battery that can store enough power to keep your home's electric inhabitants alive for up to 10 hours during an outage**. It also uses Time of Use to protect you from fluctuating daily rates to ensure you continue saving moolah. The future of home energy storage is here!
Ahoy, $0-down matey!
BrightSaveTM Monthly is not Box Canyon Park's Pirate Ship's treasure chest. Yet, it can be something super valuable for your home savings by making you save 20% on your total electricity costs.* Plus, with an industry-leading service package + system performance guarantee*** you'll feel even prouder to have this plan on your side.
Or if you want all monthly payments to walk the plank, BrightSaveTM Prepaid will blow you away. You'll also get a bumper-to-bumper coverage for the life of the product, so yeah, all savings hands are on deck with this one.
Yes, solar panels can be yours and yours only
We created BrightBuy™ so you can own the system, the savings, and the ITCs. This perfect trifecta leads to a boost in your home's value, too, while letting you forget about monthly payments, rising energy costs and surprise hikes on your electric bill.
Or, if you want to leave the upfront cost out of the equation, BrightAdvantage™ offers you hassle-free loans facilitated by Sunrun; which mean fast approval and low, fixed interest rates. At Sunrun, solar always equals forward.
One of the best places to live. One of the best places for solar.
Make your life in Yorba Linda even better by befriending the sun, not taking this step can cost you $36,000 or more over the next 20 years, and who wants that? Stop the electric-bill torture today! Contact our solar consultants to get your free, personalized quote, and become your own power company (one you'll always love).
Sources:
1.https://www.electricitylocal.com/states/california/yorba-linda/
2. https://www.bestplaces.net/climate/city/california/yorba_linda
3. https://www.greentechmedia.com/articles/read/sunrun-home-solar-installer...
*Estimated savings based on a projected annual utility rate increase of 3.16% over the life of the system. Actual savings will vary. Savings depends on several factors, including product type, system production, geography, weather, shade, electricity usage, full utilization of the 30% solar Investment Tax Credit by the system owner, and utility rate structures and rate increases. Analysis based on customers who enrolled with Sunrun between October 15, 2014; and October 15, 2015.
**Hours reflect a full battery with a minimum 20% capacity held in reserve.
***Sunrun guarantees 95% of the estimated output during the initial term of the agreement for BrightSave Monthly (PPA & Lease) and BrightSave Prepaid (PPA & Lease), and BrightBox (excluding HI). Please see sunrun.com/why-sunrun/your-guarantee for details.
Energy Resources
Solar resources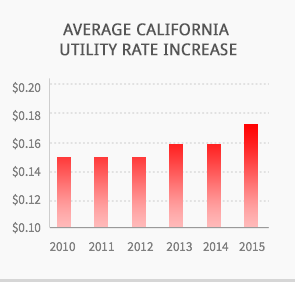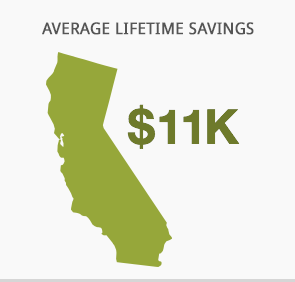 SOLAR SAVINGS ARE BIG
See if you qualify
Go solar in 3 easy steps