Have Energy When You Need It Most with Solar Panels & Solar Battery Storage
Riverside is a city conveniently located close to Los Angeles, San Diego, beaches, and of course, Disneyland. 
Another great thing for residents is Riverside's 277 sunny days per year1, which transform it into the perfect spot to harness the power of the sun. Power you can use to avoid paying almost 36% more for electricity compared to other states2. Sunrun can put solar on your roof and give you more control of your energy bills.
Solar Plans Made Simple
Sunrun's solar plans are all about choice. Whether you buy, finance or lease your solar panels, we'll tailor a one-of-a-kind solution for your exact home needs and budget.
Since 2007, thousands of Sunrun customers have made the choice to electrify their homes with clean, renewable energy, proving that acting against climate change doesn't need to be inconvenient.3
Beat Power Outages with our BrightboxTM Home Solar Storage Service
Keep your cool — and your devices running for approximately 8 to 12 hours — when the power goes out with Sunrun Brightbox. This smart battery uses Time of Use, too, so you can continue saving money as rates change during the day. In short, it's the future of home energy storage.
Solar For Little To $0 Down
Want to know why BrightSaveTM Monthly is our most popular plan? For starters, you can go solar for  $0 down. It also includes an industry-leading service package and system performance guarantee** along with predictable electricity rates for 20 years. 
And this is not the only cool kid on our block, because BrightSaveTM Prepaid gives you the benefits of a lease without the monthly payments. Meaning, your one-time upfront payment will cement you to 20 years of worry-free electricity and a bumper-to-bumper coverage for the life of the product. At Sunrun, prepaid is a real wallet aid.
Own Your System & Power Your Savings when You Buy Today
BrightBuy™ doesn't just make you a system, savings, and tax credits owner; it also helps your home's value grow stronger. And with systems designed to last 30 years or more, you're looking at some serious long-term savings.
If you'd prefer to finance your system, with BrightAdvantage™, you get low, fixed monthly payments; competitive rates; and no upfront payment. Ownership and savings look good together.
The Time To Go Solar is Now
Sunrun's solar consultants are ready to work on your free quote so you can take control of your electricity bill and gain energy indepedence today. 
Sources:
1. https://www.bestplaces.net/climate/city/california/riverside

2. https://www.electricitylocal.com/states/california/riverside/

3. https://www.msn.com/en-us/money/companies/sunruns-run-ceo-lynn-jurich-on...
*Estimated savings based on a projected annual utility rate increase of 3.16% over the life of the system. Actual savings will vary. Savings depends on several factors, including product type, system production, geography, weather, shade, electricity usage, full utilization of the 30% solar Investment Tax Credit by the system owner, and utility rate structures and rate increases. Analysis based on customers who enrolled with Sunrun between October 15, 2014; and October 15, 2015.
**Sunrun guarantees 95% of the estimated output during the initial term of the agreement for BrightSave Monthly (PPA & Lease) and BrightSave Prepaid (PPA & Lease), and BrightBox (excluding HI). Please see sunrun.com/why-sunrun/your-guarantee for details.
Energy Resources
Solar resources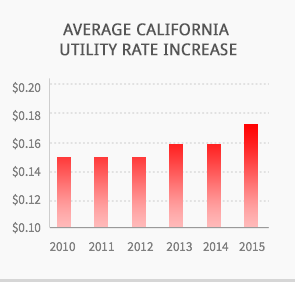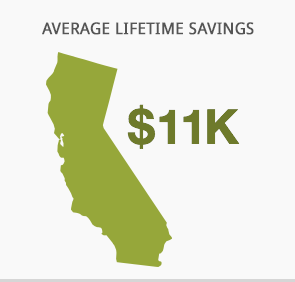 SOLAR SAVINGS ARE BIG
See if you qualify for solar